Off-road Rally Team
The Excite Rallye Raid Team takes on the Dakar Rally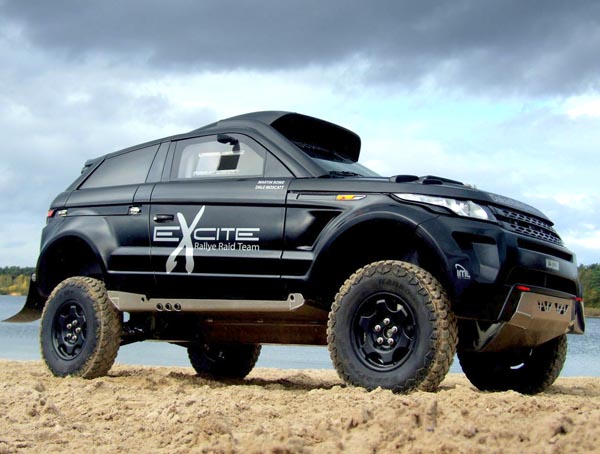 The Dakar Rally is internationally recognised as being the world's most gruelling and arduous car rally. The event is followed by millions globally on daily television, as the hundreds of competitors cover in excess of 9,000 kilometres in 16 days over some of the most hostile environmental conditions found anywhere in the world.

As you may know, the Dakar Rally moved from Africa to South America in 2009. The event organisers have stated that this move, while not permanent, will be for the immediate future.

Starting in Buenos Aires, the competitors traverse the Argentine Pampas Plains, race south to Patagonia, before climbing the mountains to where there is a one-day rest halt in Valparaiso. The route then continues north across the Atacama Desert, before reaching the finish back in Buenos Aires.

Many of the leading car manufacturers enter the event as a unique opportunity to market their products to a global audience. Equally, a large number of the entries come from private entrepreneurial teams who wish to compete in the prestigious event.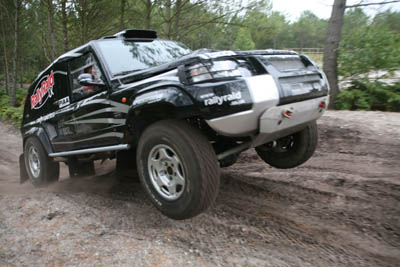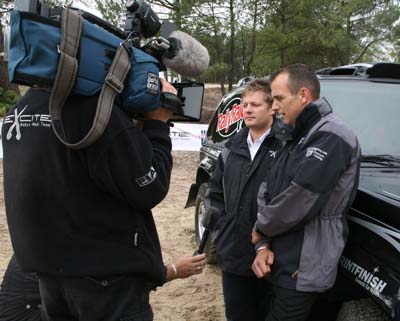 Left: John Hardy off-road in an older Desert Warrior.
Right: John Hardy and Simon Philbrick TV interview.

The Excite Rallye Raid Team will be entering this epic event in 2014, with full 'on event' support from the car's manufacturer. The car in question has an enviable reputation for speed, strength and reliability, and it comes from a company that has a long history of producing outstanding off-road race cars!

The vast 'behind the scenes' facilities offered by the organisers allows the world's media to follow the event throughout. It also offers team marketing partners the unique opportunity to meet 'their' team at the start of the event and at the finish.

You are invited to join the exclusive group of marketing partners who will be supporting the Excite Rallye Raid Team in their quest for success. Capture and capitalise on the enormous exposure and public interest that the event generates. Be part of one of the few remaining truly international sporting events.

Business (PR and Marketing) Manager
David Jones has been working in the field of international marketing for over 24 years and has particular expertise in the areas of brand development, marketing copywriting and editing, web design, international client relations and PR. Working closely with a team of dedicated PR and marketing specialists, David will help to maximise the publicity opportunities for the team and its partners ahead of, during and after the racing itself.

Sponsorship proposals – benefits programmes
One of Excite Rallye Raid's strengths is our flexibility. We can tailor a package to suit your goals and budgets, and we pride ourselves on our unique approach to publicity, both within the media and directly facing the public.

And our hospitality both on-event and during the closed season is just as creative.

How would you and your guests like to be wined and dined at the world renowned 'Goodwood Festival Of Speed'? We can arrange a corporate stand with first class catering, VIP passes and perhaps a meeting with Lord March himself! With high-speed passenger rides, this would be the ultimate invitation for any car enthusiast.

We are not limited by geography either.

Tailored hospitality in the desert – prior to or on the event itself - still with all the finery of top class catering, the glamour of grid girls and the adrenaline of having a go yourself - Excite Rallye Raid can provide you with this and other unique experiences that only sponsoring your own Dakar team can bring.

To start our new relationship with a publicity bang, we will be producing a fly-on-the-wall documentary showing all the aspects involved in preparing ourselves for the forthcoming season. Covering the build of the cars, service vans, race trucks & bikes, plus the testing, publicity and hospitality events, all will be filmed with a liberal sprinkling of good humour.

To illustrate to you how much media interest Off-Road Rallying is generating at present, we are already in negotiations for public broadcast on a well-known international sports television channel.

Three cars, 1 Race Truck – 2 years, The Dakar Rally / FIA Cross Country World Cup

Arguably one of the most prestigious sponsorship packages available with a cross-country rally team. What's more, we could potentially accommodate an additional driver or co-driver of your choice (who could be a fellow countryman, friend or colleague, as long as he has the necessary racing driver licence and a certain amount of appropriate experience).

3 Rally cars.
1 Rally truck.

Full team branding on cars, support vehicles, crew and service / support crew. Fully-branded website and promotional materials.

Team launch event and a sponsor hospitality package to include an on-event and pre-event experience.

Dedicated publicity and public relations team member to maximise press and media coverage. Additional benefits are numerous and not limited to:

Entry of an international specification fully branded race truck, superior on-event hospitality, with glamorous grid girls handing out branded team merchandise, team-branded clothing and gifts for VIPs and first class facilities.

Customised PR / Hospitality events throughout the season.

Entire team branded, including race vehicles, support vehicles, hospitality units and staff.

PR, media and hospitality organisation through a dedicated team member, taking advantage of any and all opportunities to publicise the team, the event and entertain you and your VIP guests.

Unique team merchandise and corporate gifts, only available to you and your VIP guests.

Team merchandising to market to racing fans via the website.

Your own team website, with the latest news and competitions, fully-branded and linking to your own site or sites.

Use of team vehicles and personnel for your own promotional purposes.

The benefits shown here do not constitute an exhaustive list of the available opportunities – we are open to suggestions!

Please contact us for details of the package prices and to discuss what we can do for your company.

Remember: this is just a starting point and a wide range of alternatives is available to suit all budgets.

Contact David Jones for more information on the sponsorship opportunities available and to discuss your own ideas:

Tel: + 44 (0) 7966 578999.
Email: info@reddragon.org.uk



| | | | | | | | | | | | | |