Bournemouth Wheels Festival 2015
David Jones of Red Dragon Motorsport (UK) is working on behalf of Bournemouth Tourism to develop partnerships of all sizes with appropriate organisations.

The festival returns to Bournemouth next May (29th - 31st May, 2015).

The concept was proven in 2014 in the inaugural edition of the festival and in 2015 it will again be Britain's biggest FREE wheels-themed family festival. This year's event was packed with high energy events taking place on the seafront and across the town including:
A stunning Pier Jump on a motorbike – a ramp is placed on sand on one side of the pier and the rider literally jumps to the other side.

Vintage sports car demonstrations

Evening family entertainment with wheel-themed films, live music and fireworks

Monster Truck demonstrations on the beach

BMX Team – Extreme displays

Pedal Power nightglow procession

Family fun with Unicycles

Grand Prix Road Bike Racing

Interactive displays

FMX (Freestyle Motorcross) Bike displays on the beach

Dakar Rally Car demonstrations

Explore inside amazing vehicles

Skateboard stunts.
More exciting and unique content will be announced for the 2015 edition over the coming months.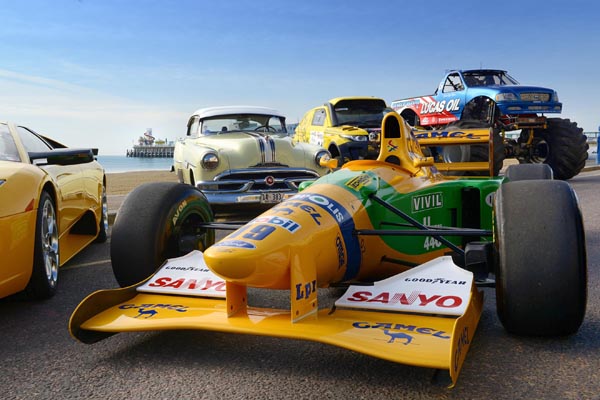 Mark Smith, Director of Bournemouth Tourism, said: "We are committed to investing in and continually enhancing Bournemouth's tourism offer as well as providing a high quality entertainment programme for residents and visitors to enjoy.
"The announcement of a new event is already creating a buzz amongst local businesses because it will be based on a similar business model to the tremendously successful Bournemouth Air Festival, which draws millions of local people and visitors into the town over the four day event each year and makes a significant contribution to the local economy. This major new festival will further cement Bournemouth's reputation as a premier destination and will be as valuable to the town as improving the quality of our outside space and attractions."
Wheels Festival will use a similar business model to the hugely successful Air Festival, which is estimated to bring over £25 million into the local economy, benefiting business while boosting the town's profile. It will be funded through trading stands, sponsorship, and support from the local trade, as well as contributions from Bournemouth Council in addition to the Coastal BID.

Contact David Jones for more details of the various sponsorship packages available - or perhaps you would like to propose something?

Email: info@reddragon.org.uk

Phone David on: + 44 (0) 7966 578999.




| | | | | | | | | | | | | |